Dan Burget, a resident of Wright, Wyoming has a most amazing and unselfish experience to share and his own words say it best.
"You're a match!" Those three words created a burst of happiness and I just couldn't stop smiling! This journey began in August, 2014, when I learned my best friend and second "brother", who was bravely and valiantly battling leukemia, needed a bone marrow transplant. At age 29, he was facing an uphill battle and I wanted to do anything I could to help him. Along with many of his other friends, I immediately registered with www.bethematch.org , the National Bone Marrow Donor Program.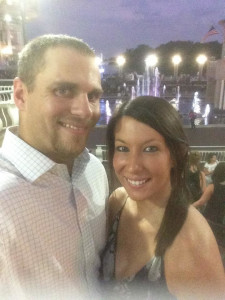 Unfortunately, I was not a match for my friend Matt. However, little did I know then that only eight months later, I would be getting a call to donate bone marrow to a complete stranger. All I knew was that I would be donating to a newborn baby girl with a very rare disease.
During the preparation period, I was given numerous blood tests, physicals and examinations. In August, 2015, my wife and I were flown to Georgetown University Hospital in Washington D.C. where the surgery took place. The surgery went without a hitch and the staff at Georgetown was just tremendous! After spending a couple of days in D.C. as an out-patient, I flew back to Wyoming to recover in the comfort of my own home and was back to work in record time.
Sadly, Matt lost his battle with cancer a few weeks before my donation took place, but he knew that because of him, a little baby was getting a second chance at life. I will always remember something Matt told me when he was going through his treatments. He said 'I just thank God I am old enough to understand why I am in so much pain. I'm so thankful I'm the one going through this and not a little child.'
I want to thank my wife, family, friends, and employer, Thunder Basin Coal Company, for their support. I encourage everyone to learn more about the bone marrow donation process and to consider registering to be a donor. I hold the little girl and her family in my prayers as their battle continues. "
Dan was born in Gillette, Wyoming to Rodney and Wanda Burget and is married to Brianna (Larson) Burget. He is a grandson of Chester and Evelyn Hejde of Aladdin, Wyoming. He graduated Wright High School and received a Bachelor of Science degree in Business Administration and Energy Resource Science from the University of Wyoming. He recently became a Master Mason in Sundance Lodge No. 9, Ancient, Free and Accepted Masons and they are proud to call him "Brother Dan."